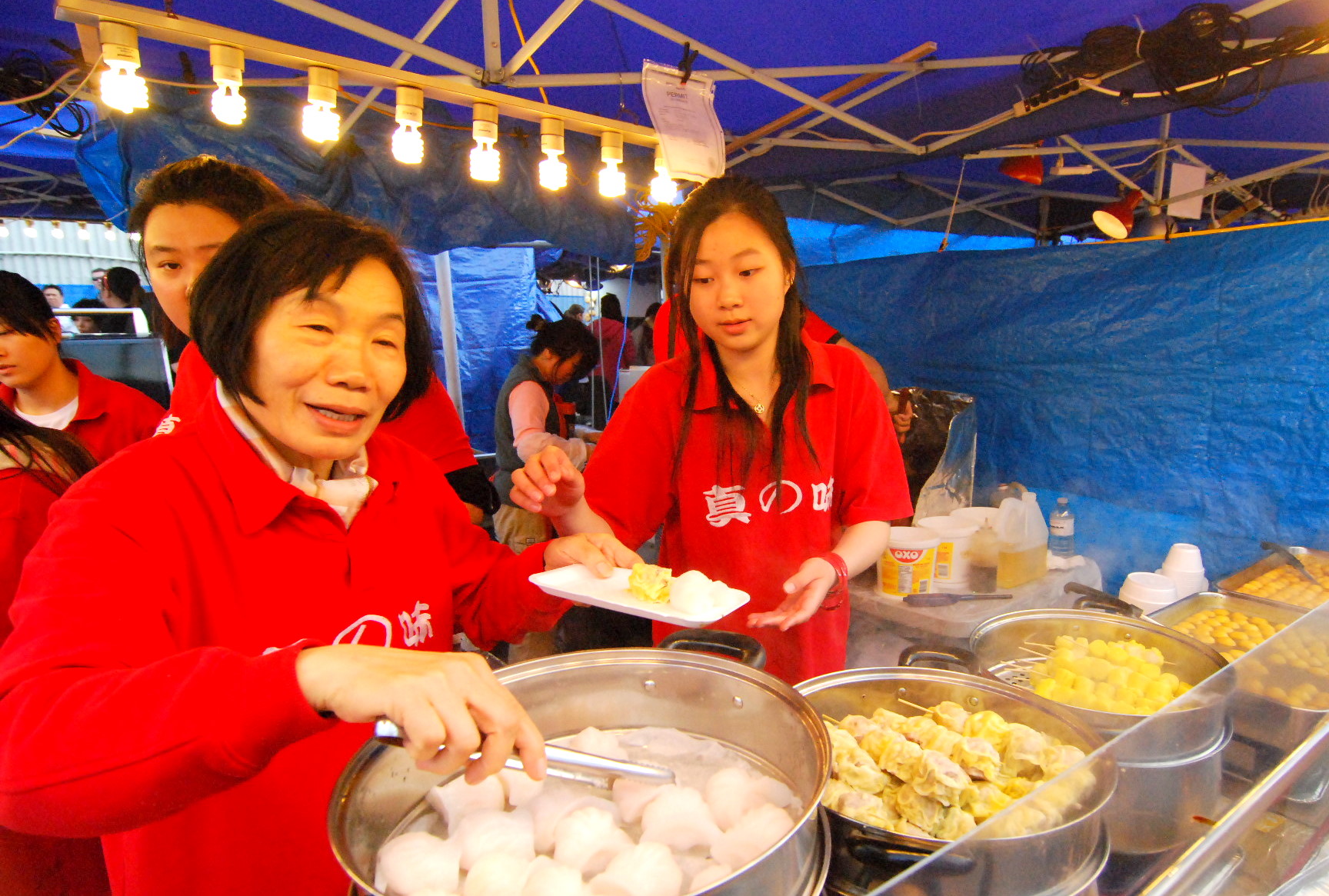 Top Wok Dim Sum's Mamma Mak and her helper Kimmie at the Night Market
Richmond, BC--This community of 200,000, just south of Vancouver, used to be familiar to travelers as the location of YVR airport. Today it's famous as the home of the largest immigrant community in Canada. Half the people who live here are foreign-born, two-thirds of them Asian. And they have brought with them a diversity of food cultures (Chinese, Japanese, Korean, Thai, Vietnamese, Filipino, Cambodian, Laotian, Malaysian, Indian, to name just the most obvious) unique to this continent. Noodles, stir-fries, satays, dumplings, teas, barbecues: they're all at Richmond's four-year-old
Summer Night Market
.
Modeled on Hong Kong's, it's the only Asian-style night market in North America. (I've been to night markets in Thailand, where they flourish as social centers, food courts and shopping malls.) Some 250 vendors set up shop three nights a week in a 125,000-square-foot parking lot between an import warehouse and the North Arm of the Fraser River, just off the Knight Street Bridge. Most of the stands sell "stuff"--cell phone accessories, Samurai swords, cheap jewelry. Its the others, 60 or more, that I've come to see, the ones selling food.
It's street food, of course, quickly prepared and eaten by hand while it's piping hot. Unique food like the dried, salted and roasted squid, at a stand operated by Eddy Lee and his dad Shum Lam Lee; the flattened filet (from Vietnam or Thailand) is grilled, then run through a tenderizing machine that looks like it could be rolling out linguini. There are deep-fried potatoes on a stick that have been spiral-sliced like a slinky, the edges dipped in powdered cheese and drizzled with a spicy ketchup. There are traditional spring rolls and dim sum and sautéed calamari. Tofu pudding, dragon beard candy (yum!), waffle cakes filled with Bavarian cream or red bean paste. William Liu's family has been selling dim sum and gyozas in Chinatown for decades; now his house-made, home-made, hand-made gyozas and shrimp-paste-stuffed eggplant are at the night market as well. Nick and Lin Fan shake up two dozen flavors of bubble tea. Nash Chenpratum grills Thai chicken satay with peanut sauce. Chef James Chen grills beef for barbecued skewers; he wears a microphone and calls out invitations to passersby. The Mak clan from Top Wok dim sum are out in force, Mamma, Joe and Leo, with so many products they have booths on opposite sides of the main aisle. There's even a token Italian vendor doing a brisk business in pasta, meatballs and tiramisù.
The crowd is relaxed, young for the most part, with plenty of backpacks and the occasional stroller. No alcohol is served at the market, no beer garden, no nearby taverns or bars. The only music comes from a performing arts stage between the food stalls and the ranks of tee shirt vendors, where a local teen group called Collabocal performs hip-hop and breakdance routines. It's a very organized, very sober, yet very vibrant version of
Bite of Seattle
, with more varied food and a much.longer schedule: 17 weekends instead of, gulp, just one.
Here's a
stop-motion video
of the action--tens of thousands of visitors every night--on YouTube.
This was just the first night of this food tour weekend. I'm here as the guest of
Tourism Richmond
, and look forward to tasting much, much more in the next couple of days.