STEVESTON, BC--This fishing village, home to the largest commercial salmon fleet in North America, they say, and part of a community of over 100,000 Asian immigrants, has also produced an anomaly: a barbecue joint called the
Hog Shack
.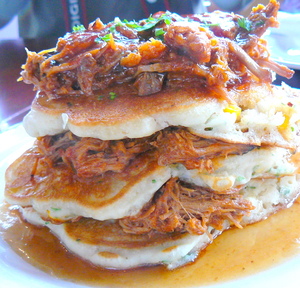 Now, there is barbecue and there is barbecue, and the debates are theological in intensity. For some, barbecue means "falling off the bone." But, say the Protestants, that's braised meat, considered apostasy by those whose salvation lies in meat that is "dry-smoked."
Into this culinary minefield, last October, jumped Allan Yeo and John Lim Hing, business partners and owners of a local steakhouse, the Mandalay. Their inspiration, they claim, was Kansas City barbecue, although any reader of Calvin Trillin knows that's way too high a standard.
Their most interesting concept, to my palate, was a dish of pancakes layered with pulled pork and served with maplejack syrup and bacon butter. Perhaps that's because I fall into the agnostic camp of prefering moister barbecue? It's not on the menu; when the kitchen rustles up a batch, the owners put it out on Twitter (@hogshackca), then sit back and wait for the crowds. So far, they say, the strategy is working.
I was less taken with the dino bones (beef ribs, smoked for five or six hours) and the burnt ends (brisket trimmings, smoked for another six hours). Hog Shack's side dishes (coleslaw, baked beans, corn bread) didn't particularly impress me, either. There's no beer on tap, just a modest selection of bottled microbrews.
Hogshack's Facebook page features a Wall of Shame filled with pictures of glassy-eyed eaters who have attempted the five-minute Flat Liner challenge (a burger-eating contest). To my taste, all this is frat-boy fare, food for 20-somethings whose palates are still developing. Not that there's anything wrong with that; far from it.
It's a gorgeous weekend, and the Tall Ships are in the harbor. Harbour, sorry.
My visit to Steveston was hosted by
Tourism Richmond
.
Hog Shack Cook House, 3900 Bayview St., Steveston, BC 604-272-7264