Spot prawn platter at Tapenade Bistro
Steveston Village, BC--You can feel good eating spot prawns; the fishery is local and sustainable. Two thirds of the commercial BC harvest comes from the Inside Passage, between Vancouver Island and the Mainland in relatively shallow (200-foot) coastal waters; they're caught in baited, funnel-shaped traps dropped to the ocean bottom attached to longlines. Most of the catch is frozen at sea and exported to Japan, but ten percent or so is sold fresh locally. It's a short season, starting in mid-May, and lasting less than three months.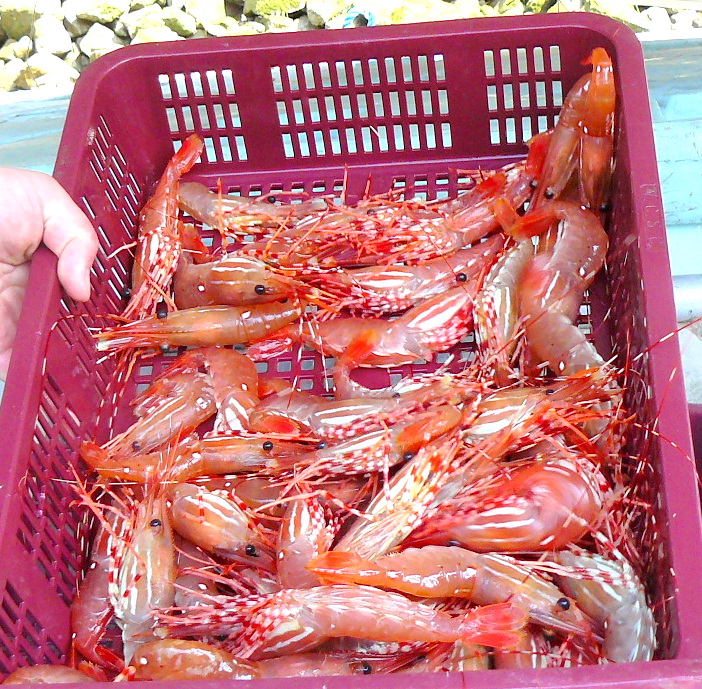 Spot prawns--the largest of seven commercial species of shrimp found off the west coast of Canada--lead a short, happy life. Immature in their first season, they become male for a couple of years, then turn female. It (or rather, she) can grow to a size of nine inches, but most are harvested at about a third that size. They're sweet and delicate, with fimrly-textured meat.
Ocean Wise
, the Vancouver Aquarium's list of sustainable seafood, gives the highly regulated catch a big thumbs up, as does the Monterey Bay Aquarium's
Seafood Watch
.
We had the good fortune to be dockside when the fishing boats arrived with their cargo of fresh, live prawns. Tossed into a simmering court-bouillon (onion, celery, carrot, bay leaf, thyme), or briefly steamed, they're ready in minutes. Twist off the head (and suck the juices out, if you're game), then split the back shell open with your fingers. Mayonnaise or aioli is barely necessary. Chef Alex Tung at
Tapenade Bistro
in Steveston serves a huge platter with two pounds of prawns, chorizo sausage and fingerling potatoes for $70; it would easily feed two hungry adults or a table of six as an appetizer.
To accompany the spot prawns, Tapenade served a lovely sauvignon-sémillon blend called Alibi from the dramatic
Black Hills Winery
on the Naramata Bench outside Oliver, in the Okanagan Valley. This is one of the best vineyard sites on either side of the border, and one worth seeking out.
No less impressive than the prawns was the Dungeness crab cake ($14 for a pair), topped with a spoonful of remoulade. No surprise that Chef Tung was named best chef on the Lower Mainland by the
Georgia Straight
. No surprise at all.
By the way, the
Tall Ships
are just outside Tapenade's front door this weekend.
Tapenade Bistro, 3711 Bayview St., Steveston, BC, 604-275-5188